地址:
香港銅鑼灣謝斐道 491 號新城大廈 2 樓 A 室

營業時間:
2pm - 8pm
(逢星期二, 三休息)

Tel: (852) 25089001

Whatsapp: +852 61756157

Email: info@pmtarot.com



其他產品推介

貨品意見報告

評語數:

2

外觀:
質量
使用效果

貓貓

發 表 於 2010-01-15 01:56
好耐之前就買左worry dolls~~不過一直冇上黎比返評價!
之前我因為有學業/感情/家庭問題..真係令我好心煩,
又唔知點解決! 就買左佢地..諗到d咩就同worry dolls講晒,
心理上舒服左(吐晒出黎) 而且真係work,
原本冇得挽咁滯既關係竟然有得返轉頭!!
本身買佢只係為左減少煩惱..但最後竟然好似有d願望成真既感覺(?)
呢個價錢好抵..
仲有,佢地好靈...我買返黎果時1包有7隻(多左隻)
我拎開左多出黎果隻..之後我feel到有d怪怪的感覺(唔知係咪我多心)
我放返隻doll入bag果時就冇左果種feel~好似同我講佢想入返個bag度咁= ="
anyway..好幫得手,不過有次我mum幫我洗床單果時唔小心洗埋...甩晒色又甩晒線..
唔知有冇影響...定係要買過d新..??
600879

發 表 於 2009-12-16 14:15
用了兩日, 煩惱雖然存在(是因為沒有解決的方法), 但已經對煩惱沒有痛苦的感覺, 極力推薦~~
觀看最新的 20 個評語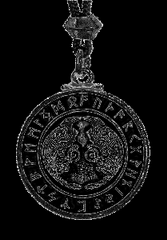 Odin Ravens
The Norse God Odin was the main Viking god. He goes by some 36 different names. One name is Hrafnáss; Raven-God. Norse Myth tells us that Odin has a pair of Ravens perched on his shoulders. They are known as Huginn, Thought and Muninn Memory. They are much more than Odin's pets; they are his Spies and Messengers. Odin sits on Hlidskjalf, his high seat above the clouds, and sends them out every day as Spies and Messengers to fly throughout the Nine Worlds and, upon their return, relate to Odin every secret that they have found. Ravens are also Spirit Guides: Ravens wisdom includes introspection, courage, self-knowledge, Magic, healing, creation, rebirth, keeper of secrets, master magician, shape shifter, and Mysticism. The Magical Runes surrounding Odin's Ravens are the "Elder Futhark." Each letter is said to have Magical Powers. Possess this Amulet and Feel the Power Of The Raven.
$350 HKD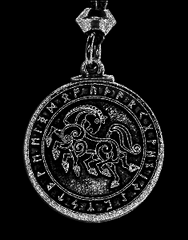 Odin 8 legged horse: Sleipnir
The Viking God Odin has several Shamanic Spirit Guides which include the Valkyries, Odin's Ravens and Odin's Wolves all of which can probably be classified as Fylgjur- supernatural beings which accompany one to their Fate or Fortune. One of the most Magical is the 8-legged horse, Sleipnir, the swiftest Horse in the world. Sleipnir [meaning smooth or gliding] is no ordinary horse: Having 8 legs his speed is greater than any other horse, yet his ride is exceptionally smooth. It is believed that Sleipnir could be ridden over the Sea and through the Air. Odin rides Sleipnir on his frequent journeys throughout the Nine Worlds, which are held in the branches and roots of the Viking World-Tree Yggdrasil. Amusingly, Sleipnir was the offspring of the Trickster God Loki who had once assumed the shape of a mare to help the other Viking Gods trick the Frost Giant Hrimthurs into building an immense wall around Asgard. The All-Father God Odin is associated with Healing, Knowledge, Battle, Sorcery, Death, the Gallows, Royalty, Poetry, Frenzy, and the Magical Runic Alphabet, and is the husband of the Beautiful Goddess Frigg: Norse Goddess of Love and Fertility. Friday is named for her. Possess this Magical Amulet and feel the Magical Power of your Horse Spirit Guide.
$350 HKD