地址:
香港銅鑼灣謝斐道 491 號新城大廈 2 樓 A 室

營業時間:
2pm - 8pm
(逢星期二, 三休息)

Tel: (852) 25089001

Whatsapp: +852 61756157

Email: info@pmtarot.com



其他產品推介

貨品意見報告

評語數:

1

外觀:
質量
使用效果

600726

發 表 於 2009-10-07 21:47
This product works effectively and naturally because the glory water does not work exagerratedly but magically. The other day before I went to school, I applied some on the collar of my school uniform. Later on, I hopelessly took the late train. However, by the time I reached on my destination. I realised that the train came a couple of minutes later. Consequently, I wasnt late for school. The night before I have not done my eng homework and did not studied for my math test but then the eng teacher seemed to forget about the hw (she never forgets) and the math teacher decided to postpone the test (never happened b4). Also, my teachers and classmates seemed to become exceptionally nice to me on that day. Coincedence or magick? up 2 u...

I highly recommend this product for those who wish to overcome obstacles, increase their luck and for everyone wishing for things to go smooth throughout their day.

觀看最新的 20 個評語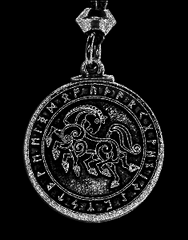 Odin 8 legged horse: Sleipnir
The Viking God Odin has several Shamanic Spirit Guides which include the Valkyries, Odin's Ravens and Odin's Wolves all of which can probably be classified as Fylgjur- supernatural beings which accompany one to their Fate or Fortune. One of the most Magical is the 8-legged horse, Sleipnir, the swiftest Horse in the world. Sleipnir [meaning smooth or gliding] is no ordinary horse: Having 8 legs his speed is greater than any other horse, yet his ride is exceptionally smooth. It is believed that Sleipnir could be ridden over the Sea and through the Air. Odin rides Sleipnir on his frequent journeys throughout the Nine Worlds, which are held in the branches and roots of the Viking World-Tree Yggdrasil. Amusingly, Sleipnir was the offspring of the Trickster God Loki who had once assumed the shape of a mare to help the other Viking Gods trick the Frost Giant Hrimthurs into building an immense wall around Asgard. The All-Father God Odin is associated with Healing, Knowledge, Battle, Sorcery, Death, the Gallows, Royalty, Poetry, Frenzy, and the Magical Runic Alphabet, and is the husband of the Beautiful Goddess Frigg: Norse Goddess of Love and Fertility. Friday is named for her. Possess this Magical Amulet and feel the Magical Power of your Horse Spirit Guide.
$350 HKD