地址:
香港銅鑼灣謝斐道 491 號新城大廈 2 樓 A 室

營業時間:
2pm - 8pm
(逢星期二, 三休息)

Tel: (852) 25089001

Whatsapp: +852 61756157

Email: info@pmtarot.com



>> >>




Smudge Stick: Sage & Copal 7"

貨品介紹:


This Sage and Copal smudge stick blends these two ingredients into a fantastic aid in cleansing people, places and items of negative energy and influence



價 錢 :90

貨品編號: 07105

Share on Facebook



分享到新浪微博
BACK <<
其他產品推介

貨品意見報告

評語數:

0

外觀:
質量
使用效果

觀看最新的 20 個評語



Yggdrasill - The World Tree
In Norse mythology, it is believed that the axis of the universe is an enormous ash tree. This tree, "Yggdrasill", links the worlds of Asgard (where the Gods reside) Midgard (where humans reside) and Nifheim, (the land of darkness and freezing mist) known as Hel. Yggdrasill is called "The World Tree" because it is thought to be the guardian of the whole world. The tree is universally thought of as a symbol of stability and growth, and revered for its life-giving abilities. The roots reach deep into the earth to ground us; the branches reach high into the heavens to enable our spirit to grow; the fruits feed and nurture our bodies. The tree represents life, death, and resurrection. It buds new in Spring, ripens in Summer, withers in Fall and dies in Winter, but awakens anew in the endless cycle of life!
$350 HKD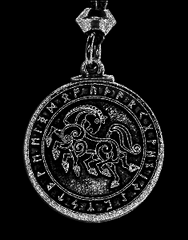 Odin 8 legged horse: Sleipnir
The Viking God Odin has several Shamanic Spirit Guides which include the Valkyries, Odin's Ravens and Odin's Wolves all of which can probably be classified as Fylgjur- supernatural beings which accompany one to their Fate or Fortune. One of the most Magical is the 8-legged horse, Sleipnir, the swiftest Horse in the world. Sleipnir [meaning smooth or gliding] is no ordinary horse: Having 8 legs his speed is greater than any other horse, yet his ride is exceptionally smooth. It is believed that Sleipnir could be ridden over the Sea and through the Air. Odin rides Sleipnir on his frequent journeys throughout the Nine Worlds, which are held in the branches and roots of the Viking World-Tree Yggdrasil. Amusingly, Sleipnir was the offspring of the Trickster God Loki who had once assumed the shape of a mare to help the other Viking Gods trick the Frost Giant Hrimthurs into building an immense wall around Asgard. The All-Father God Odin is associated with Healing, Knowledge, Battle, Sorcery, Death, the Gallows, Royalty, Poetry, Frenzy, and the Magical Runic Alphabet, and is the husband of the Beautiful Goddess Frigg: Norse Goddess of Love and Fertility. Friday is named for her. Possess this Magical Amulet and feel the Magical Power of your Horse Spirit Guide.
$350 HKD